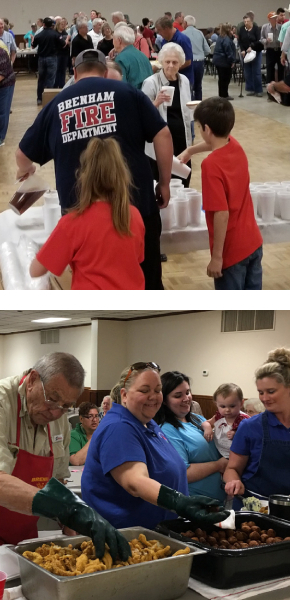 Brenham About Us
The heritage of Brenham Fire Department represents boldness and innovation in the face of adversity.

After the Civil War about 200 Federal soldiers took over Brenham during Reconstruction, as they did all over the South. Here, the atmosphere became hostile. On the night of September 7, 1866, Federal soldiers looted downtown businesses, then burned an entire city block – large part of Brenham in those days.

After a second fire was started by the soldiers a few months later, the people of Brenham Resolved that they would no longer be victims of the lawless Federals. In May of 1867, the Hook & Ladder Company No. 1 was formed and Col. D. C. Giddings was elected foreman.

The Hook & Ladder Company quickly became one of the most progressive firefighting units in Texas. With the help of citizens, they began building cisterns to hold rainwater for fighting fires.

To help the firefighters, the Mechanics Engine Company No. 1 was formed in 1878, and the two companies merged.

As the years progressed, and as training requirements grew, a facility was needed for classes and exercises. In August of 1984, Brenham Fire Department completed construction of Firemen's Training Center, which was made possible by its members and generous supporters. The property was donated by John Garnett, a Brenham resident and BFD supporter.

When not in use for fire and rescue training, the Center is rented for community events. Revenues have helped purchase several new fire engines and other firefighting equipment.